The tender brief for this project indicated a glass sphere to house a planetarium; this resulted in a project that is the first of its kind in Malta. It hosts entertaining and educational shows related to our planet and space, the solar system and the entire universe.
The glass used in this project is a double curvature 10+8mm PVB laminate with low iron float glass, with a light bronze interlayer having an external diameter of 12.8m. The structural system adopted is a vierendeel double layer geodesic dome of 1m depth. The vierendeel system is chosen here to allow for a crawl space for personnel to install and maintain the electrical and lighting systems.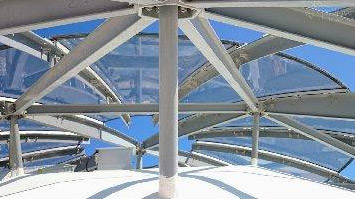 The structural system is supported on only 3 points, with a sum factored reaction force of 2648kN (270 tons). The proprietary 72mm stainless steel tension rods supporting these loads are composed of a special alloy made by Macalloy attaching the steel structure to the concrete columns.
The internal area is designed to support an imposed load of 7.5kN/m2, which hosts a system of tiered seating for an audience of 54 persons. It has an internal lining to control the acoustic qualities of the space in terms of reducing reverberation times. The inner skin has considerable sound and thermal insulation which is in the form of 174 prefabricated triangular timber composite elements.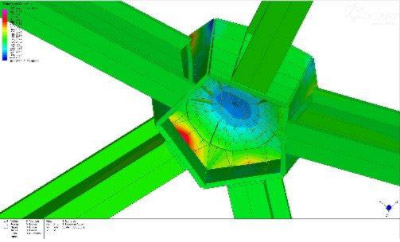 The geometry of the domes is based on a frequency 3 icosahedron connected radially at the nodes with rigid elements. The custom designed nodes were subjected to structural tests to verify the characteristics of the system and were pushed to ultimate loading.
15 vertical aluminium curved ribs were attached on the external layer to form the base for the double curved glass which was procured from Spain. The fixing system for the glass was designed and manufactured in-house.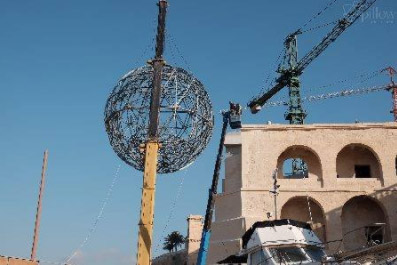 The erection of the structure was executed at ground level using a mobile crane; the structure was hooked from its north pole and gradually hoisted during the stages of assembly; the bare structure weighed 18 tons at the end of this stage. Following this process, the dome was attached to the tension rods in place and the remainder of the works were carried out in-situ.
The remainder of the works were carried out up to final commissioning for the inauguration of the project on the 28th of January 2017 Under the distinguished patronage of Her Excellency Marie-Louise Coleiro Preca, President of Malta.
Guests watched a planetarium show in this unique 4K digital full-dome theatre. They Explored the new Universe Exhibition situated in the Planetarium Building and enjoyed an evening of live music, open bar and finger food from this historic venue overlooking the magnificent views across Kalkara Creek and the Grand Harbour. The ticket price for this black tie event was €75 in aid of the Community Chest Fund Foundation.
Click here for a comprehensive photo gallery
Project Specifications
Project Name : Esplora® Planetarium – Villa Bighi
Client : The Malta Council for Science and Technology (MCST)
Main Contractor : C & F Building Contractors.
Architect : dtr A&C.E.
Structural Consultants : QPM